Sku:

854111004729

Barcode: 854111004729
Vendor: Mr Mochas Pet Supplies
Benebone Puppy Wishbone Bacon Small
The Benebone Wishbone is the flagship durable chew toy. Since dogs don't have thumbs, why give them a chew that you can pick up and they can't? With real bacon, peanut and chicken infused all the way through, your dog's wish is coming true. The Puppy version is designed with a slightly softer material makeup dedicated to teething pups – they're sure to save your tennis shoes!

Patented ergonomic design - curved wishbone shape to allow puppies to pop-up one end and get a satisfying chew.
Deep grooves which allow pups to get a good bite, and increased surface area for improved scent and flavor.
Real ingredients and real flavor - made with super-strong nylon and 100% bacon for irresistible flavor and scent.
Softer for modest chewers under 30lb.
View full details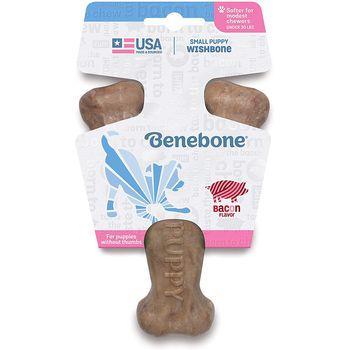 Benebone Puppy Wishbone Bacon Small