Sku:

812121039131

Barcode: 812121039131
Vendor: Mr Mochas Pet Supplies
Earth Animal Health Calmness 2 oz
Dr. Bob Goldstein chose the most common health conditions that affect dogs and cats today and then thoughtfully created formulas made up of targeted herbs and flower essences for a true health benefit.

Calmness is a relieving, organic herbal blend that supports balanced behavior, promotes a calming effect, helps manage normal stress, and helps maintain contentment during travel, grooming, thunderstorms, fireworks, motion sickness, or environmental changes.

Each batch is crafted in the Green Mountains of Vermont.

For use in dogs and cats only.

We use only organically grown or wild-crafted herbs to make these powerful concentrated liquid extracts. Our herbal formulas have reduced alcohol content, with added flower essences to help re-balance the disrupted energy or emotional patterns associated with each condition for a truly holistic balancing effect.

Active Ingredients per ml (20 drops): A Proprietary Blend of Organic & Wildcrafted Herbal Extracts (1:4) 225 mg (Skullcap, Chamomile, Valerian, Passion Flower, Lemon Balm, Ginkgo). Inactive Ingredients: Alcohol, Borage Flower Essence, Chamomile Flower Essence, Elderflower Essence, Glycerin, Valerian Flower Essence, Water.
View full details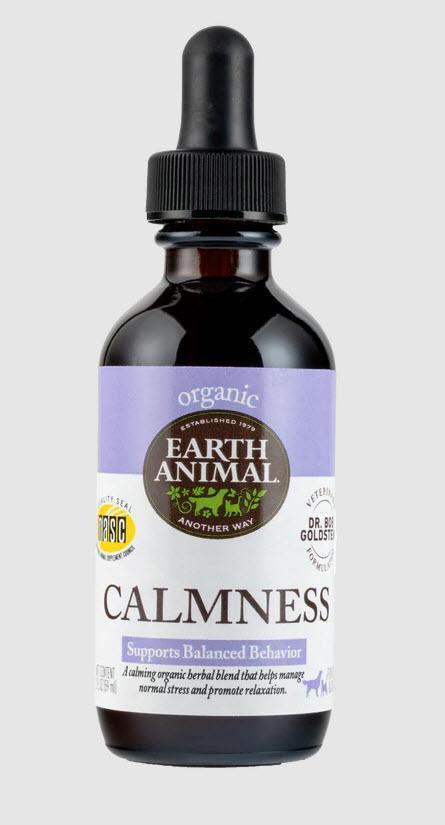 Earth Animal Health Calmness 2 oz