Sku:

669125504031

Barcode: 669125504031
Vendor: Mr Mochas Pet Supplies
Nutri-Vet Cat Hairball Paw Gell 3 oz Salmon Flavor
HELPS PREVENT HAIRBALLS - Contains natural oils that may help prevent and eliminate hairballs by lubricating the intestinal tract and minimizing excessive shedding in cats of all ages.

PROMOTES HEALTHY SKIN AND GLOSSY COAT - Simply apply the creamy gel to your cat's paw and as they begin to groom themselves their skin & coat will benefit from the natural oils.

GREAT TASTE - Tasty chicken or salmon flavor appeals to even the pickiest cats.

MADE BY VETS - Formulated by veterinarians, all Nutri-Vet products are made to the highest standards of quality and consistency.

USA MADE - Made in the USA with premium globally sourced incredients you can trust. All Nutri-Vet supplements carry the National Animal Supplement Council (NASC) quality seal.

Ingredients

 

Hydrogenated Vegetable Oil, Soybean Oil, Corn Oil, Ascorbic Acid (Vitamin C), Catnip Extract, Cetyl Alcohol,Salmon Flavor, Lecithin, Malt Syrup, Methyparaben, Potassium Sorbate, Polysorbate 60, Psyllium, Sodium Benzoate, Sodium Methyl Cellulose, Sodium Stearoyl Lactylate, Stearic Acid, Water, Xanthan Gum.
View full details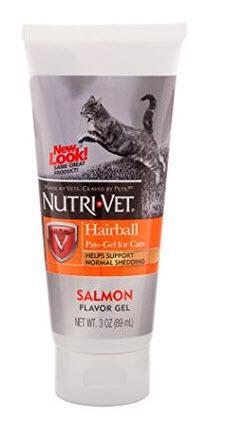 Nutri-Vet Cat Hairball Paw Gell 3 oz Salmon Flavor